BANKSY- An Inspiring Artist
Being famous does not originally mean that you need to be in public and should smile at camera flashes every now and then.  But there are very few people in this world who hate to be in limelight, and actually are the source of infinite energy and creativity that can/do bring about a positive difference to this world. One among such unknown but blatantly existent individual is Banksy, an UK-based Graffiti street artist, who is well known for his anonymity and excellent thought provoking art works. The significant of all elements is that the works of this exceptional artist is truly inspiring to many people, with solid reasons and logic behind it. In this link you can read more about BANSKY. 
More about Bansky, I just read from one website on "Collectables- now"
Banksy artwork is very well known and he himself has become almost an anonymous celebrity, born in England in 1974 (near Bristol.) Banksy artwork is often satirical and features heavily on contradictions of stereotypes and politically active concerns, something Banksy has almost developed as a style, probably leading him to have achieved such remarkable popularity. But on the same note the work is not overly obnoxious, subtly it tugs on issues without blowing people out of liking it by being overly disgusting.

It's not often you see banksy work for sale, in fact a lot of it is on non moveable walls which makes for a difficult sale. But occasionally a you find a good lump of artwork by Banksy for sale. Often reaching prices of the millions at auction the real banksy pieces that do come up for sale are out of reach of a lot of the mainstream, something Banksy himself counteracts nicely with his website shop where everything is free. Banksy makes us all realise that there's a lot of the world undocumented, un thought of and hidden from everyday view, and that things can always be twisted and a funny side can always be seen, even if it is dark satirical comedy.
I don't believe in monetizing the talent of individual for one's own gain. Or in other words, people making money through business, art or creativity, for simply enjoying luxuries of life cannot actually be named as inspiring people as their priority is personal gain rather than public good.
I do really think that if you are placed in this world by some natural force, and if you are rooted in a domain that promises your growth, then God has a purpose behind putting you in place. Take up the opportunity that knocks at your door and expose your talents and creative works to world. If you dont want fame, keep your identity undisclosed (which I don't actually support because, according to me, the one who fail to expose the actual identity is either afraid of world or is hiding something significant from the world.) BUT make it a point that you give your message clear to the world what  you stand for through your art, your words and your expressions, monetize from it and share it with the needy ones who deserves your helping hand. May be God has showered you with such great talent to become a medium for being bread for the poor, deserted or the orphan ones in this world.
So, expose your works, your mind's thoughts and positive views to public. Let them see, know and feel what you felt when you made your every piece of work. It might change the perception of people and strive them to make a better world.
This article is dedicated to JiMme, who is blessed with high defnition talent in sketching and whose works & words can truly bring a positive difference in this world in many ways.
Hey ya, will meet you at your Exhibition at London:
Best Regards from Ur Pug
Sources of Information on Banksy & Image Courtsey: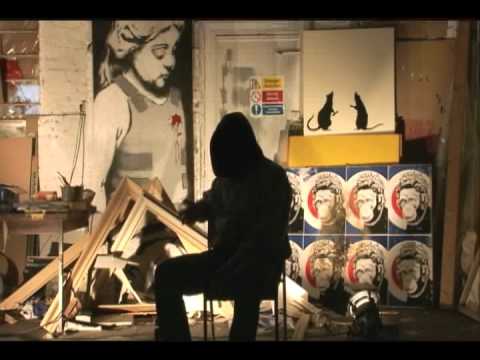 http://weburbanist.com/2008/09/07/banksy-art-and-graffiti-the-ultimate-guide/
http://www.artofthestate.co.uk/Banksy/banksy.htm
http://en.wikipedia.org/wiki/Banksy